So I've officially released
Hymn
as of today. I'm excited about it. But now comes the hard part - now comes the marketing part. So I'm starting off by promoting it here and asking you guys for any ideas on how to push it out there further.
I used by less than minimal web skills to make a page for it. It's not awesome, but for what I know how to do, I'm pretty pleased with it.
Here's a screenshot: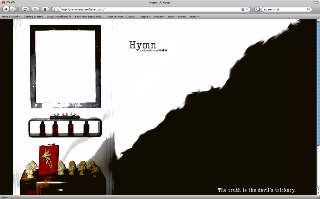 I put a lot of hidden stuff on there too. A poem and quotes from the book and whatnot. It's good times.
And here's the info for it if anyone is so inclined to purchase it. Right now it's only on Lulu but in a few weeks it'll be up on Amazon, Barnes and Noble, and Borders.
Hymn
Also, does anyone out there do the Kindle thing?
Is it worth offering it up on there? How easy is the search and whatnot?
Cheers.