Hymn
as of today. I'm excited about it. But now comes the hard part - now comes the marketing part. So I'm starting off by promoting it here and asking you guys for any ideas on how to push it out there further.
I used by less than minimal web skills to make a page for it. It's not awesome, but for what I know how to do, I'm pretty pleased with it.
Here's a screenshot: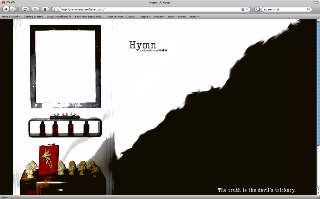 I put a lot of hidden stuff on there too. A poem and quotes from the book and whatnot. It's good times.
And here's the info for it if anyone is so inclined to purchase it. Right now it's only on Lulu but in a few weeks it'll be up on Amazon, Barnes and Noble, and Borders.
Hymn
Also, does anyone out there do the Kindle thing?
Is it worth offering it up on there? How easy is the search and whatnot?
Cheers.
So I've officially released
What celebrity would you consider changing your sexual identity for?
Eliza Dushku. Or Sarah Michelle Gellar. Obviously I'm a
Buffy
fan.
But I still can't shake the desire to have Niel Patrick Harris on hand too. No fantasy is complete without NPH.
Obviously I'm incredibly bored and procrastinating.
In other news, Morrissey's "Years of Refusal" is really good. Yay for new music.
With a satirical spin on the twisted fairytale genre,
Roast
offers a glance into the lives of three very different people. Michael Mason has just made detective and is working on his first big case; Sarah Clarke is super-dee-duper excited about her new job as a fairytale princess; and Pippin Parsons is just looking for somewhere to fit in, a place where size truly doesn't matter. Their lives continue to spiral closer and closer together as the heat from the mid-Florida summer shows them all what it truly means to roast.



now comes the hard part. and while i do not think this will be the be all and end all messiah of presidents, i feel a hope that was lost many years ago.
hell fucking yeah!


be jealous.
to freezepop tonight.


Ani will be doing poetry readings and interviews from her new book Verses at the following names, dates, and times (GET IT? GET IT? I'm so clever):

Tuesday, Nov. 13, 1:00 pm
Wordsmith Bookstore
141 East Trinity Place
Decatur, GA 30030

Ani will read from Verses and be interviewed by Dr. Rebecca Hyman-professor of English and Feminist Studies at Oglethorpe University in Atlanta.

This event is free and open to the public! There are only 250 spaces, so get there fast. Admission is first come, first served.
Are you going to be in the New York, Decatur, or DC area anytime soon? Do you have some free time to hear your favorite folksinger read some poetry? If you do, dig this: